J810网络IP电话机座机
核心卖点: 两个速拨键,一键事业,一键家庭!

虽然定位是入门级的IP网络电话机座机,然而,深简品牌J810型号不惜成本,品质对标友商中端产品,"中高端的配置,低端的价格",拥有齐全的配置、高清的音质。而且贴心地配上两个带指示灯的速拨键——一键家庭,一键事业! 本款话机另有支持WiFi的版本,型号是JW810(点击这里浏览JW810话机)。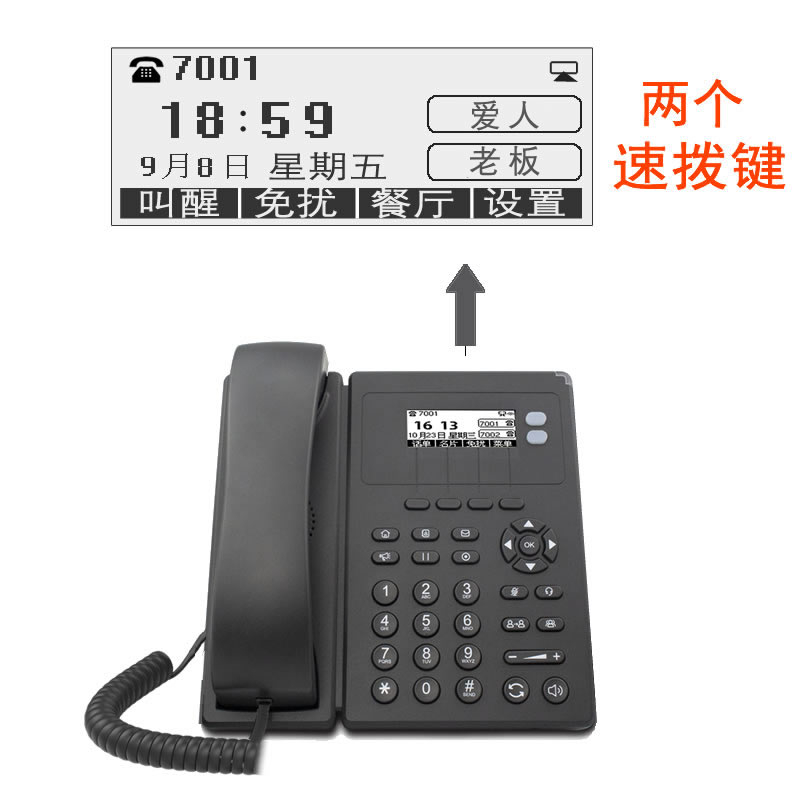 IP电话机音频特征
> 高清音质:HD手柄, HD免提
> 音频编解码:Opus、iLBC、G.722(HD)、G.711(A/u)、G.729AB、 G.723
> DTMF:In-band、RFC 2833、SIP info
> 全双工免提
> VAD、CNG、AEC、PLC、AJB、AGC
网络电话机用户界面
> 2.4" 128 x 64像素带背光的黑白LCD屏
> 16位色彩深度
> 来电和未读信息提示灯
> 红绿双色提示灯,帐号状态信息
> 带有图标和软键的直观用户界面
> 支持多语言显示
> 来电信息:联系人名称、号码
> 节电模式
J810配置管理
> 配置模式:网页、话机、自动配置
> TFTP/HTTP/HTTPS 自动配置
> TR069网管(TR104/TR106)
> 恢复出厂设置,重启
> 抓包和系统日志导出
> DNS/DNS SRV (RFC 1706, RFC 2782)
> NAPTR(RFC 2915,SIP URL查找)
> 支持ACS云网管接入
> DHCP 服务器和DHCP 客户端S
IP话机特征
> 2个SIP账号
> 呼叫保持、静音、 免打扰、自动应答、重拨、速拨、热线
> 呼叫转移、呼叫等待、通话转接
> 短信
> 三方会议
> IP直拨
> 保持音乐,自定义铃声
> 寻呼、对讲、通话驻留、通话截答
> 手动或自动设置时间
> 拔号规则(数图)
> IP冲突检测
> 2个速拨键
> 电话簿 (500条记录)
> 黑名单
> XML/LDAP 远程电话簿
> 搜索/导入/导出电话簿
> 呼叫记录:最近未接来电/已接来电/已拨号码( 60条记录)
IP-PBX 特征
> BLF
> 匿名呼叫,匿名呼叫拒接
> 语音信箱
> 信息等待提示(MWI) 功能键
> 2个线路键
> 7个功能键:语音信息、耳麦、通话保持、静音、 通话 转接、重拨、免提
> 4个软键
> 5个导航键
> 音量调节键
座机接口
> 2 x RJ45 百兆以太网接口
> 可选配PoE供电(IEEE 802.3af), Class 3
> 1 x RJ9 手柄接口
> 1 x RJ9 耳麦接口
> 1 x 电源接口
座机物理特性
> 颜色:经典灰色
> 支架可调3个角度
> 可挂墙
> AC/DC 适配器 AC 输入:100~240V,50~60Hz DC 输出:5V,1A
> 功耗(电源适配器): 1.5-3.5W
> 功耗(PoE): 1.9-4.5W
> 裸机尺寸(W x D x H x T): 189mm x 185mm x 173mm x 34mm
> 相对温度:10%~90%(无冷凝)
> 贮藏温度:-25~ 85°C
> 工作温度:0~50°C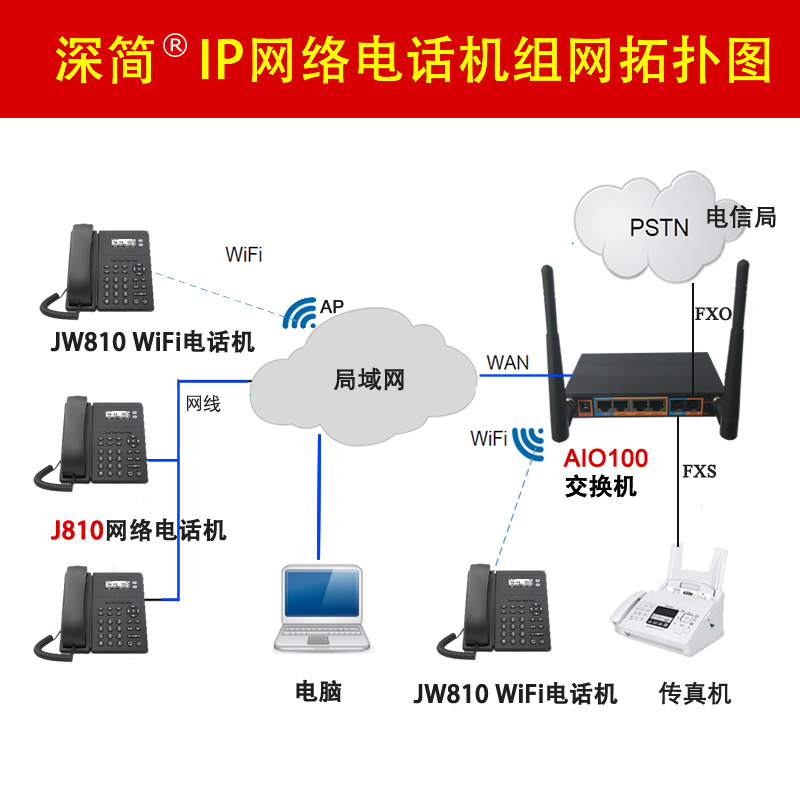 话机网络安全
> SIP v1 (RFC2543)、v2 (RFC3261)
> 调用服务器冗余
> 基于STUN 的NAT穿透
> SIP连接模式:代理模式、对等直连模式
> IP地址分配模式:静态IP、DHCP
> 支持HTTP/HTTPS服务
> 通过SNTP自动同步日期和时间
> SDP (RFC 2327) 、UDP/TCP
> 支持多VLAN、DSCP、802.1p QoS
> SRTP
> TLS
> HTTPS 证书管理
> 配置文件AES加密
> 信息验证机制
> VPN:PPTP、l2TP、OpenVPN
> IPv4、IPv6、IPv4/IPv6双栈
> RTP/RTCP (RFC 1889、RFC 1890)
> ARP/RARP (RFC 826/903)
> IEEE802.1Q VLAN/802.1p/DSCP
> SNMPv2
> LLDP/CDP/DHCP VLAN
J810外箱包装
> 包装清单 ·IP话机主机 ·手柄、手柄线、以太网线 ·底座支架 ·快速入门指南 ·电源适配器
> 数量/箱:10台
> 净重/箱:9.6 kg
> 毛重/箱:10.6 kg
> 单台包装盒尺寸:270mm x 195mm x 78mm
> 外包箱尺寸:420mm x 420mm x 290mm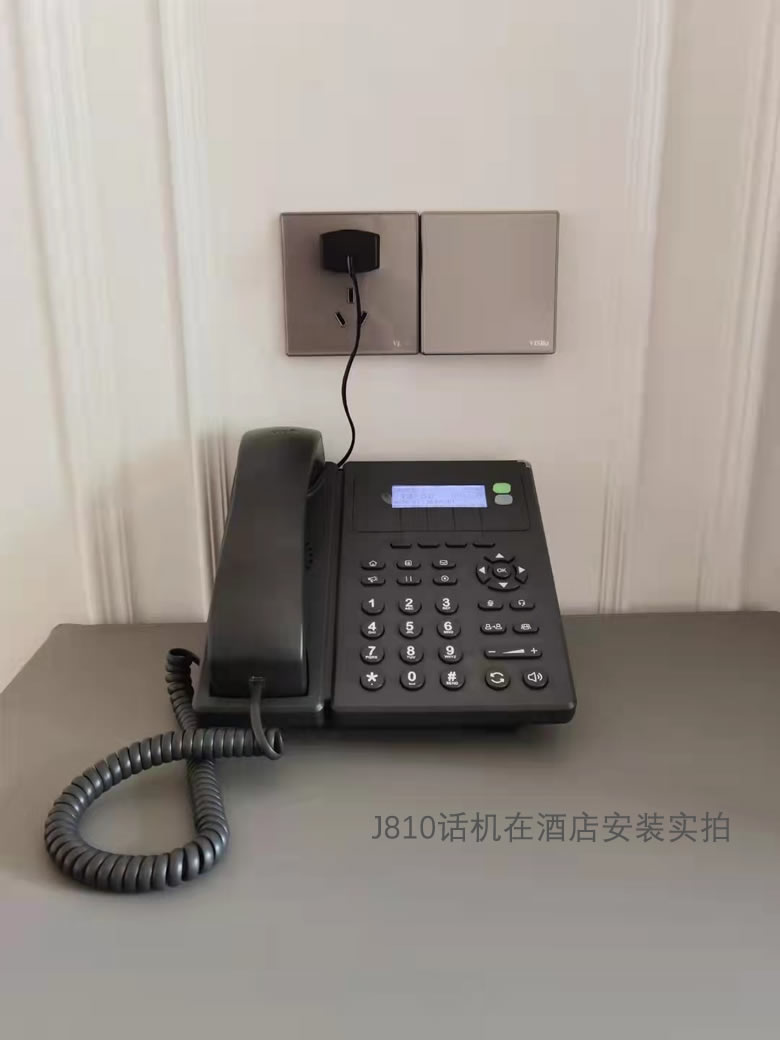 J810 Entry-level 2-Line IP Phone
J810 is an entry-level business IP phone with a 128 x 64 backlight display. It supports 2 SIP accounts, 3-way conferencing , and the RJ9 headset jack is compatible with major headset brands today.

Simple and Easy to Use UI Design
J810 comes with a simple design yet ergonomic design that is easy to use. Prompts guide you through a simple installation process making it easy to start a voice collaboration.

Flexible Deployment
Whether in your office or conference room, say goodbye to the complex deployments, connect with people the way you like. It supports dual 10/100 Mbps ports.

HD Voice Quality
J810 provides excellent voice quality. We have created high definition sound quality solutions for handset scenarios, even in a noisy environment.

High Security and Compatibility
All conversations are well protected. We make sure of security algorithms such as configuration files utilising AES, SRTP and TLS call encryption. The J series IP phones are widely compatible with SIP-based PBX platforms such as Asterisk, Broadsoft and 3CX.
• 128 x 64px backlit LCD display
• 2 SIP accounts
• 2 DSS/BLF keys
• HD Voice
• Opus
• 2 x 10/100 Mbps Ethernet port
• Stand with 3 adjustable angles
• EHS headset, RJ9 headset
• Wall mountable
J810 IP Phone Specifications


Audio Features
> HD voice: HD handset
> Wideband Codec: G.722, Opus, AMR-WB(Optional), G.711WB(Optional)
> Narrowband Codec: G.711(A/u), iLBC, G.729A/B, G.723, G.726, AMR-NB(Optional)
> DTMF: In-band, RFC 2833 and SIP info
> Full-duplex hands-free speakerphone
> VAD, CNG, AEC, PLC, AJB, AGC

Phone Features
> 2 SIP accounts
> Call hold, mute, DND, redial, auto answer
> One-touch speed dial, hotline, SIP message
> Call forward, call waiting, call transfer (attended/blind)
> Paging, intercom
> 3-Way conferencing
> Direct IP call without SIP proxy
> Set date time manually or automatically
> Dial rule
> IP conflict detection
> Up to 2 DSS/BLF keys

Directory
> Phone book (2000 records)
> Black list
> XML/LDAP remote phonebook
> Phonebook search/import/export
> Call history: dialed/received/missed (60 records)

IP-PBX Features
> BLF
> Anonymous call, anonymous call rejection
> Voice mail, call park, call pickup
> Message waiting indicator (MWI)

Feature Keys
> 2 Line keys
> 7 features keys: message, headset, hold, mute, transfer, redial, hands-free speakerphone
> 4 Soft Keys
> 5 Navigate Keys
> Volume+/-
Display and Indicator
> 128 x 64px backlit B/W LCD screen
> 16 bit depth color
> LED for call and message waiting indication
> Dual-color (red/green) illuminated LEDs for line status information
> Intuitive user interface with icons and soft keys
> Multilingual user interface
> Caller ID with name and number
> Power saving feature

Interface
> 2x RJ45 Ports (Ethernet 10/100 Base-T)
> 1 x RJ9 Handset port
> 1 x RJ9 Headset port
> 1 x Power adapter

Management
> Configuration: browser/phone/auto-provision
> TFTP/HTTP/HTTPS for Auto Provisioning
> TR069(TR104/TR106)
> Reset to factory, reboot
> Package tracing export, system log
> DNS/DNS SRV (RFC 1706, RFC 2782)
> NAPTR for SIP URI lookup (RFC 2915)
> DHCP server and DHCP client

Others
> Color: Classic grey
> Stand with 3 adjustable angles
> Wall mountable
> AC/DC Adapter
AC Input: 100~240V, 50~60Hz
DC Output: 5V, 1A
> Power consumption (PSU): 1.5-3.5W
> Dimension(W x H x D x T):
190mm x 188.5mm x 173mm x 41.5mm
> Relative humidity: 10%~90% (No Condensing)
> Storage temperature: -25~ 65°C
> Operation temperature: 0~45°C
Network and Security
> SIP v1 (RFC2543), v2 (RFC3261)
> Call server redundancy supported
> NAT Traversal By STUN
> Proxy mode and peer-to-peer SIP link mode
> IP assignment: Static IP and DHCP
> HTTP/HTTPS web server
> Time and date synchronization using SNTP
> SDP (RFC 2327) ,UDP/TCP
> Mutil-VLAN, DSCP and 802.1p QoS
> SRTP
> TLS
> HTTPS certificate manager
> AES encryption for configuration file
> Digest authentication
> VPN:PPTP, L2TP, OpenVPN
> IPv4 /IPv6 ,Dual stack IPv4/IPv6
> RTP/RTCP (RFC 1889, RFC 1890)
> ARP/RARP (RFC 826/903)
> IEEE802.1Q VLAN/802.1p/DSCP
> SNMPv2
> LLDP/CDP/DHCP VLAN

Package Contents
> IP Phone
- Handset with handset cord
- Ethernet cable
- Stand
- Quick start guide
- Power adapter (Optional)
> Qty/CTN: 10 PCS
> N.W/CTN: 8.75 kg
> G.W/CTN: 9.48 kg
> Giftbox size: 270mm x 195mm x 78mm
> Carton meas: 420mm x 420mm x 290mm




本文链接地址为:简捷通信首页 -> 产品介绍 -> IP网络电话机座机 -> J810网络电话机